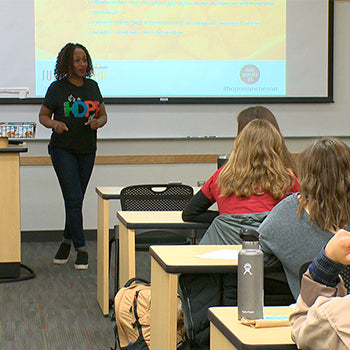 A cookie company is using food to spark important conversations on college campuses.
MINNEAPOLIS, Minnesota — In a University of Minnesota classroom, Junita Flowers takes out three different kinds of cookies. 
"Food tends to be that tool that for hundreds and hundreds of years has been an opportunity to bring people together," Flowers said. 
Flowers is setting up for her fourth Cookies and Conversation event—part of a larger mission since launching Junita's Jar in 2018. 
While Junita's Jar is a cookie company, its main focus is helping end intimate partner violence. 
"I'm a survivor of relationship violence and I've always been a believer in the power of sharing your experience," Flowers said. "So when I needed to emotionally escape the chaos and just the trauma of being a part of an abusive relationship, it was baking cookies that was my own personal, mental and emotional escape." 
Read the full article here