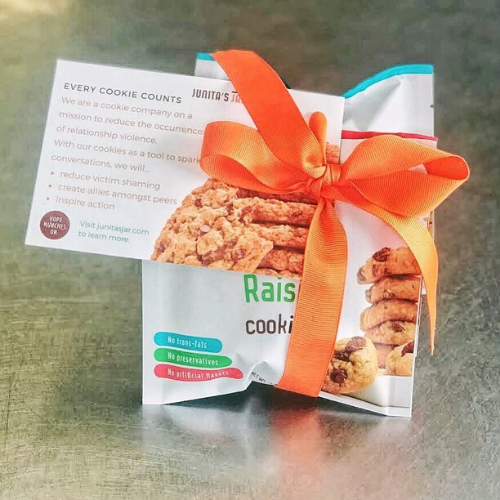 The Daily Podcast recently aired an interview with the lead defense attorney, representing a former Hollywood executive in his rape and sexual assault trial. When asked if she had ever been sexually assaulted, the defense attorney replied: "I have not because I've never put myself in that position. I just never put myself in any vulnerable circumstances ever." 
Although I was deeply disheartened by the comment, I also know that in many cases of sexual or physical assault, the blame is unfortunately placed on the victim. This practice must change.
Junita's Jar is committed to changing the narrative and putting an end to relationship violence against women, by facilitating and encouraging conversations dedicated to: reducing victim shaming, creating a community of support among peers and inspiring young people to take positive action that produces change.
Open, engaged and informed conversations with trusted adults are just one of the many important steps required in fostering healthy relationships. February is #teendatingviolenceawareness month (TDVAM) and here are five simple conversation starter tips for parents, encouraging dialogue about relationship violence.
1. Create a comfortable environment and be prepared to listen and learn from the teen's perspective. Keep the conversation low-key and on-going. 
2. Ask about the dating scene at their school and amongst their peers. Ask what dating means and what they expect in a relationship.
3. Using pop culture, current events or other relatable content, point out healthy and unhealthy relationships, defining the traits that represent those relationship behaviors. Compare and contrast the information with your established family values and expectations.
4. Ask questions about dating and social media and how their friends express the good moments and the breakup moments. Ask what they think is appropriate/inappropriate to post online about relationships.
5. Talk about establishing and maintaining healthy boundaries. Reinforce your role as a support person and advocate.
We know there are many tips and resources available to support your role as a parent and/or trusted adult in a teen's dating life. The most important tip is to establish what works for your relationship and to get the conversation started...again, and again, and again and again!
We want to hear from you. Send us your personal stories and experiences on the topic of relationship violence. You can also support our efforts to keep the conversation going by partnering with us to host a Cookies and Conversation event. Remember, your purchases from our online store make it possible for us to continue offering our conversation series on college campuses. With your support, I am confident...together, we can change the stats!